Znáte tu situaci, když nějaký produkt používáte způsobem, jak nebyl zamýšlen? Někdy se jeho nedostatky dokonce stanou žádoucí vlastností? Asi jako v komisku XKCD workflow: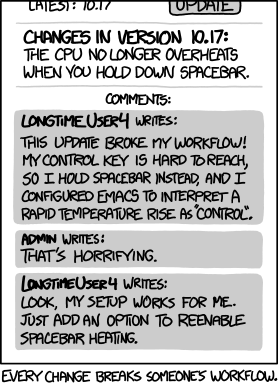 Já to tak mám často, uvedu pár příkladů.
Kdysi dávno jsme v počítači měli disk, který nejen vydával hluk, když se točil, ale ještě k tomu vydával specifický výrazný hluk, když disk zrovna něco četl nebo zapisoval. Nový disk pak sice měl větší kapacitu, ale bohužel postrádal tuto užitečnou zvukovou signalizaci, na kterou jsem si zvykl.
Na telefonu Nokia 3120 snad nebylo možné bez odemčení kláves rozsvítit displej. Teda bylo. Stačilo napsat některé z vybraných nouzových čísel, jako například 112 nebo 911. Asi není moudré pro tyto účely používat místní nouzové číslo 112 (kdybych to omylem vytočil), ale naštěstí telefon takto z nějakého důvodu reagoval i na číslo 08. Stiskem další číslice jsem pak zrušil psaní nouzového čísla. Takže jsem používal sekcenci 080, abych zkontroloval stav telefonu. Bylo to praktické, protože 0 a 8 jsou poblíž.
Na touchpadu jsem si kdysi aktivoval emulaci multitouch. Potom systém například plochu palce bral jako dva prsty, což mi přišlo velice praktické. Bohužel jsem byl v tomto vnímání asi osamocen a novým notebookem jsem o tuto praktickou vlastnost přišel.
V autoškole jsem se naučil řídit starou Fabii 1.9 SDI skoro bez dívání na budíky. Rychlost odhadnu podle převodu a otáček. A na otáčky je tu "zvukový otáčkoměr". Jenže, pokud budu mít relativně moderní auto, bude mít nejspíš příliš tichý motor…
Naštěstí tento problém až tak řešit nemusím. Asi vás nepřekvapí, že cílem autoškoly nebylo stát se řidičem…